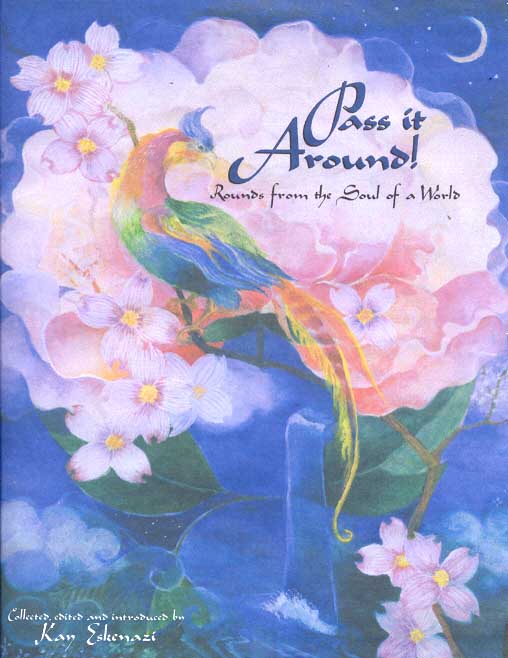 View Title Index
View First Line Index
View Composer Index
View Subject Index
Pass it Around! Rounds from the Soul of a World
Kay Eskenazi
(© Kay Eskenazi, 2003)
Pass It Around! Rounds from the Soul of a World is a collection of gorgeous rounds and harmony songs in clear, user-friendly format. It includes over 180 exquisite rounds – the very finest from Elizabethan, Classical, German, French, African, Balkan, Hebrew and contemporary North American sources. It also includes full-length three- and four-part harmony songs from Elizabethan, Balkan and contemporary North American composers. Pass It Around! begins with clear instruction about how to sing, arrange and teach rounds and part songs, and provides fascinating historical commentary about many of the songs. All songs include complete musical notation and lyrics. This book is perfect for song circles, casual ensembles, community choruses, summer camps, schools, synagogues and churches! These beautiful songs will lift your spirits and fill your heart.

Transform your life into a songfest, your awe into musical exultation, your cynicism into a revolutionary choir, your loneliness into a singing circle of friends. This is the recipe book! Musical heights, spiritual depth, humor, peace, and song-potions that perform the alchemy of ecstatic love - right here between these covers! 183 pages. View Table of Contents .